Mike Matera - CIS @ Cabrillo College#
Welcome to the home page of my Cabrillo Courses.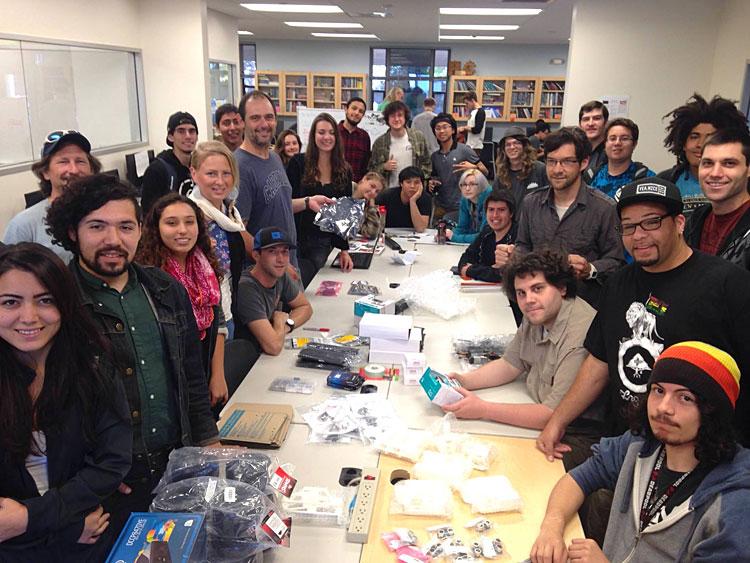 Assembling a Swarmie ~ 2017
Dear Student,#
Technology inspires me and I'm grateful to be able to share my love of computers with students. I've been an instructor at Cabrillo College since 2013. In that time I've taught many CIS and CS classes. There are so many ways to learn technology online, what sets Cabrillo apart is that you can count on me to listen, to help, to give you individualized support so that you can be successful.
Before Cabrillo I spent 15 years at Xilinx INC (now AMD). Xilinx was the world's leading supplier of Field Programmable Gate Arrays, a type of microchip that is programmed to emulate other chips. I began my career as a logic designer, producing self-test circuits and have three circuit patents: US6239611B1, US6651238B1 and US8212576B1. I also wrote a lot of software. I was the architect and developer on projects written in PERL, C++ and Java, designed and constructed embedded Linux systems with custom Linux kernel drivers and wrote a domain specific programming language using ANTLR. I designed, built and maintained datacenters to bring microchip verification and testing to the cloud.
I have a B.S. in Computer Engineering from UC Santa Cruz and an M.S. in Computer Science from National University.
FAQ#
Do I have to come to campus?#
I make my classes as flexible as possible to suit your needs and schedule. All of my classes stream live (and are recorded) at the time listed in the schedule of classes and on the course page. If the time is not convenient for you you can watch a condensed recording later. In person attendance is never required.
Can I come to the classroom?#
Yes! All students are welcome to attend the live class on campus.
When will the class be live?#
Class times are posed in their corresponding class pages.
Should I live stream or watch the recording?#
That's up to you. The live class session has breaks where we work on lab assignments. Those breaks are edited out of the recording so if you work quickly the recording takes less time.
I'm on the wait list, will I get into the class?#
Yes! I always take everyone on the wait list.
Should I take the online or the in-person section?#
They are the same! It doesn't matter what section you're registered for, you are always welcome in the classroom and you can aways access the online class. Register for the section with room.